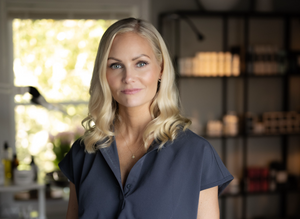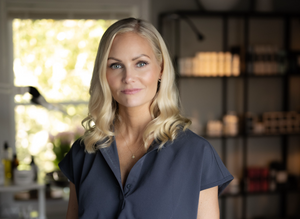 Hanne Powers is one of the leading skin care specialists in the Washington D.C., Maryland, and Virginia area.  Hanne brings more than 20 years of experience in Denmark and the Northeast to her sumptuous spa, Pretty Please | Skin by Hanne Powers located in Annapolis, Maryland.
A native of Copenhagen, Denmark, Hanne is an alumnus of the world-renown beauty school CIDESCO in Copenhagen.  Hanne opened her first spa in Denmark in 2000, going on to own several spas throughout the Copenhagen area between 2000-2010.  In addition to her spas, Hanne owned the Danish beauty magazine Go Beauty.
Throughout her career, Hanne has worked with leading skin care brands, including: Dermalogica, Decleor, Carita, Nimue Skin Technology, La Prairie, and Clarins. Today her spa and online store offer curated collections from Amazing Space and Beaute Pacifique.  Both collections incorporate clean ingredients with the latest technology and help her clients achieve extraordinary results. 
Hanne is a passionate advocate of skincare and believes that advanced technology, combined with pure ingredients and appropriate treatments can transform lives.  She believes that beauty is more than skin deep and she brings a holistic approach to her customized treatments for clients.  Hanne is a licensed esthetician, permanent makeup artist, nail technician and massage therapist.
SKIN by Hanne Powers offers clients bespoke treatments that will transform their skin in a luxurious, relaxing setting in historic downtown Annapolis.  
Nichole Willem
Nichole Willem graduated from Von Lee International School of Aesthetics in 2018 as Valedictorian of her class. From there, she quickly realized her true passion was for healing and revising the skin from the inside out.
She fundamentally believes in supporting the skin on a holistic level by using the highest quality skincare, combined with some of the most advanced technology on the market. Nichole has worked with both DMK and Osmosis for several years to treat conditions such as acne, rosacea, pigmentation, and preventative aging. Her goal is always to regulate and maintain the healthy functioning of skin. She is passionate about creating a deep level of trust with her clients where they can have hope for healing and enjoy the skin they deserve.